Mother throws outrageous fashion show birthday party for her daughter, dressing her in Chanel, Dior, Louis Vuitton and Prada
The mother purchased the extravagant wardrobe from all over the world
She rented a hotel foyer and runway to use in Taiyuan, Shanxi province
The mother spent over 1 million yuan – or $AUD204,177 (US $157,000) – on the lavish outfits 
The wardrobe features Louis Vuitton, Dior, Burberry, Armani and Prada
While most two-year-old girls would be happy dressing up as Elsa for their birthday, some of them have more refined tastes.
This week an affluent mother from Shanxi province in China has banked $200,000 (US $157,000) in designer clothes for her trendy-toddler daughter to don in a fashion-themed birthday bash.
The unnamed mother, who is in her 20s, amassed the designer wardrobe from all over the world, then rented a hotel and runway to host the bizarre event.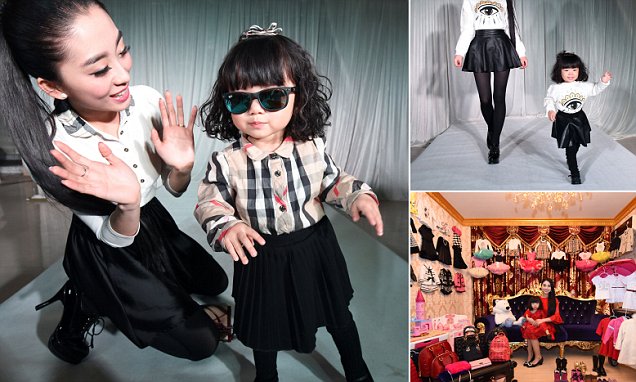 Adorable images show the tot voguing down a runway garbed in Louie Vuitton, Dior, Burberry and Prada.
The mother reportedly purchased the outfits from the United States, Hong Kong and Korea-and as you can imagine, they didn't come cheap.
She spent over 1 million yuan on the wardrobe, which works out to be AUD$204,177 (US $160,000) – enough to buy a Panamera Turbo Porsche.
And that's not to mention the hotel, catwalk and photographer she evidently hired to capture the peculiar spectacle.
The doting mother justified the extravagant outlay by saying she wants her daughter to experience the finer things in life.
'We have no financial issues, so I just want my daughter to have a better life,' she said.
Despite wanting to give her daughter a birthday to remember, netizens around the world were quick to point out the the modish minor is unlikely to recall anything from the party, given she's only two years old.