"She's really particular about what she likes to wear, she's such a girlie girl," says Kim Kardashian West of her daughter North. "Every day she wakes up and says 'shoes.' You have to bargain with her—before you change her diaper she needs a pair of shoes on." The twenty-two-month-old It girl certainly put her best foot forward this past Fashion Week, often stealing the thunder of her famously sartorial-minded parents with a wardrobe of custom Lanvin, Céline, and Alexander Wang ("He made her the cutest little bomber with this little skirt and studs and socks," says Kardashian West of Wang). And she'll have a whole new set of looks to play with come next week, thanks to her mom's latest collection of Kardashian Kids, which launches on Nordstrom.com April 13. It's the first time that Kardashian West is partnering with the Seattle retail giants, and with prices starting at $25 and topping out at just $35, the high-low dressing possibilities for fashion-conscious little girls are endless.
"It's just something that I think was really missing—an affordable line that was really cute and stylish," Kardashian West says. So where did the idea for the collection, which includes jumpsuits, shift dresses, and shorts, come from? "Hours and hours of looking online," she says, referencing Instagram and Tumblr. "There's an account called @fashionkids about moms posting about their kids and outfits." She pulled inspiration straight from her own closet for a fashion-forward edge, which is why you'll find peplum tops and black faux leather leggings in amongst the playful geometric prints.
So what's next? Bags? Shoes? "Well, North does love handbags," Kardashian West says. "And anything where there's a little bit of glitz." Her daughter's penchant for carrying micro Chanel and Saint Laurent purses and hand-painting Mommy's Hermès Herbags is well-documented, after all. In the meantime, there are several adorable headbands in the collection for mini accessory obsessives, but don't expect to see the littlest West sporting them. "She hasn't been the biggest fan of keeping something on her head," Kim says, laughing.
The new collection also features boys' clothing, begging the question: Will Nori have a pint-size playmate anytime soon? "You know, we're trying to expand the family," West says. "We're doing everything we can. I would be so happy with whatever God gave me, but I mean, eventually, yes, I would love a boy." For now, from the looks of her new offerings, one thing is even more clear: The family that is stylish together, stays together.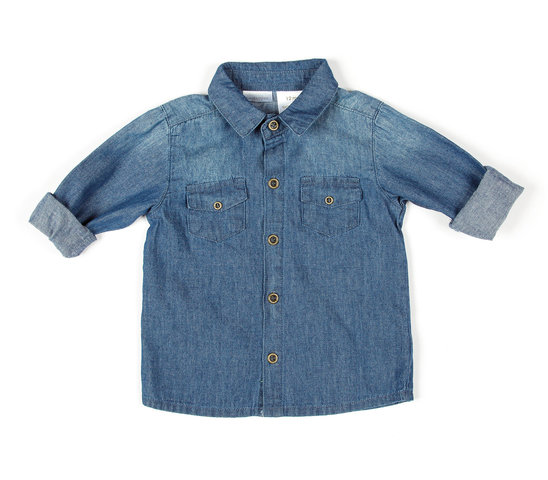 Kardashian Kids boys' stone wash sand-blasted denim shirt, $30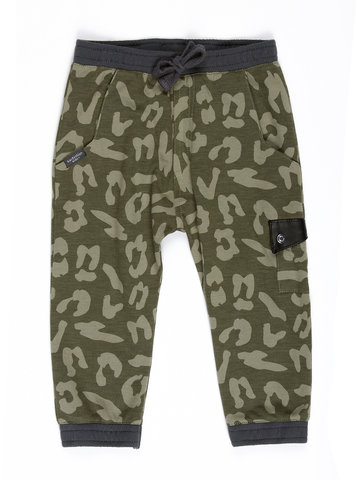 Kardashian Kids boys' yardage French terry pant with contrast elastic waist and hem, $27